Main content starts here, tab to start navigating
Food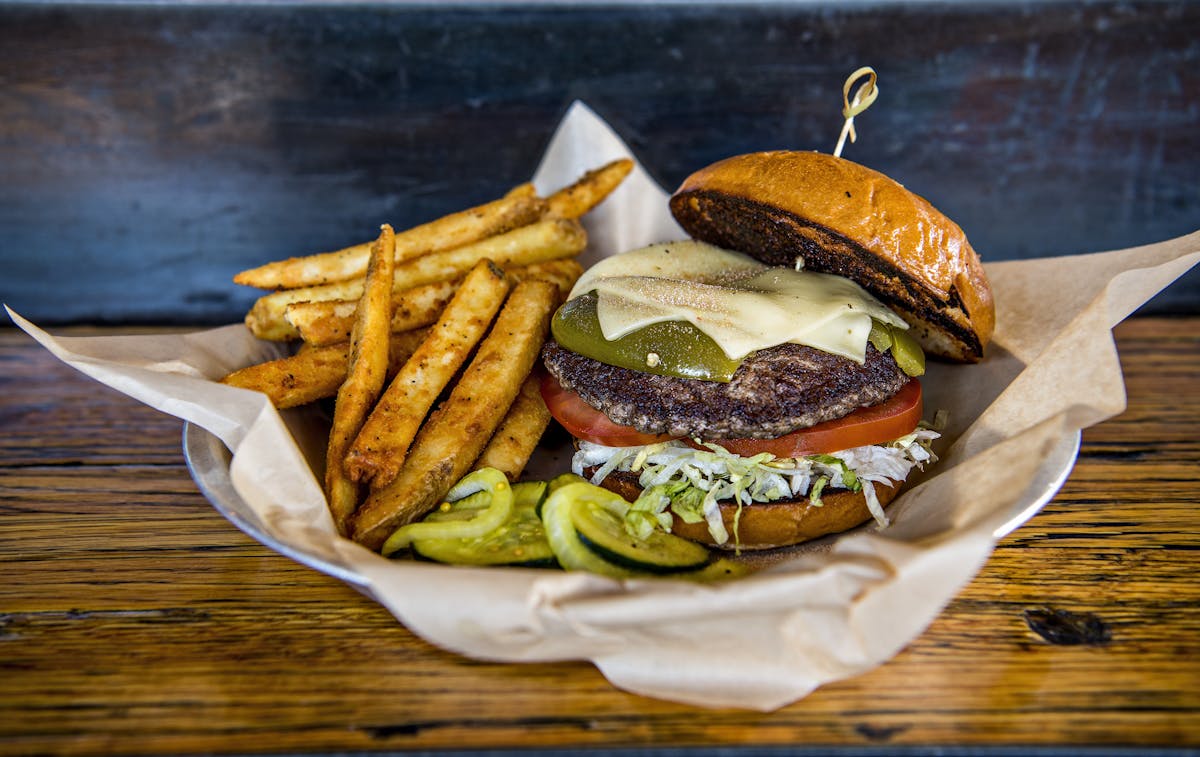 Slide 1 of 4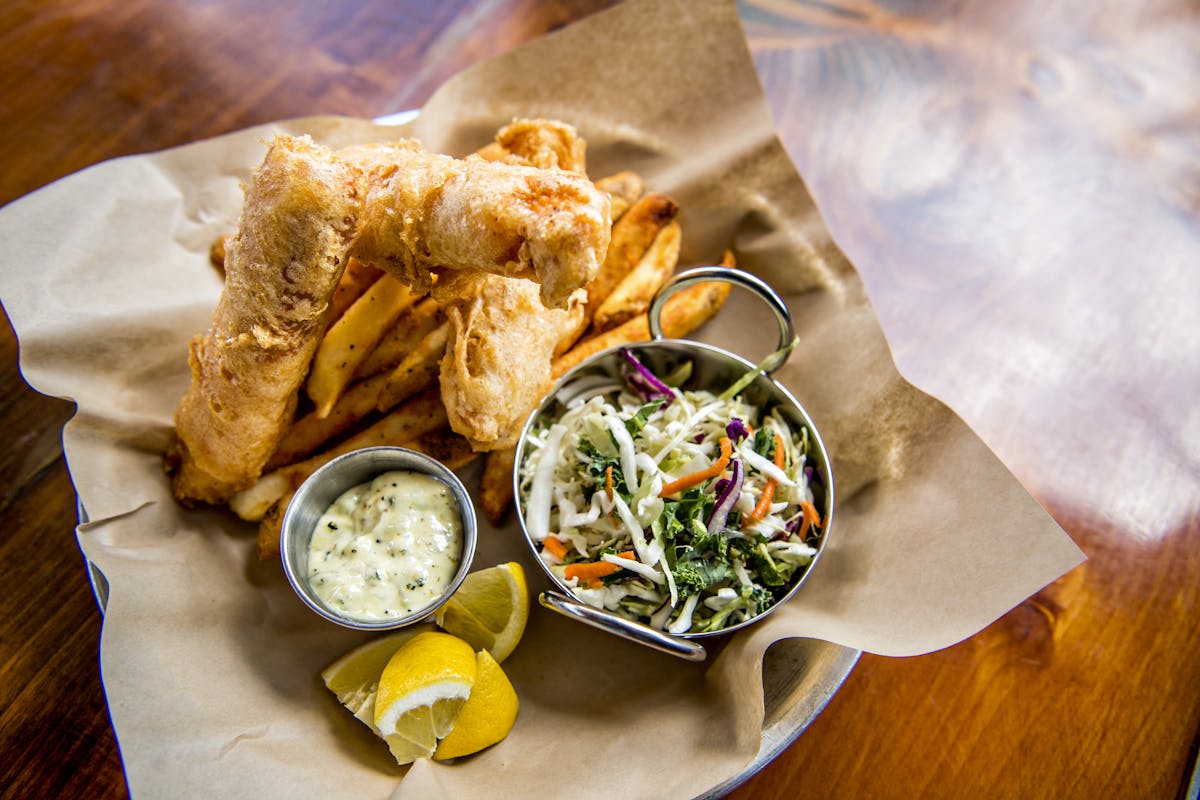 Slide 2 of 4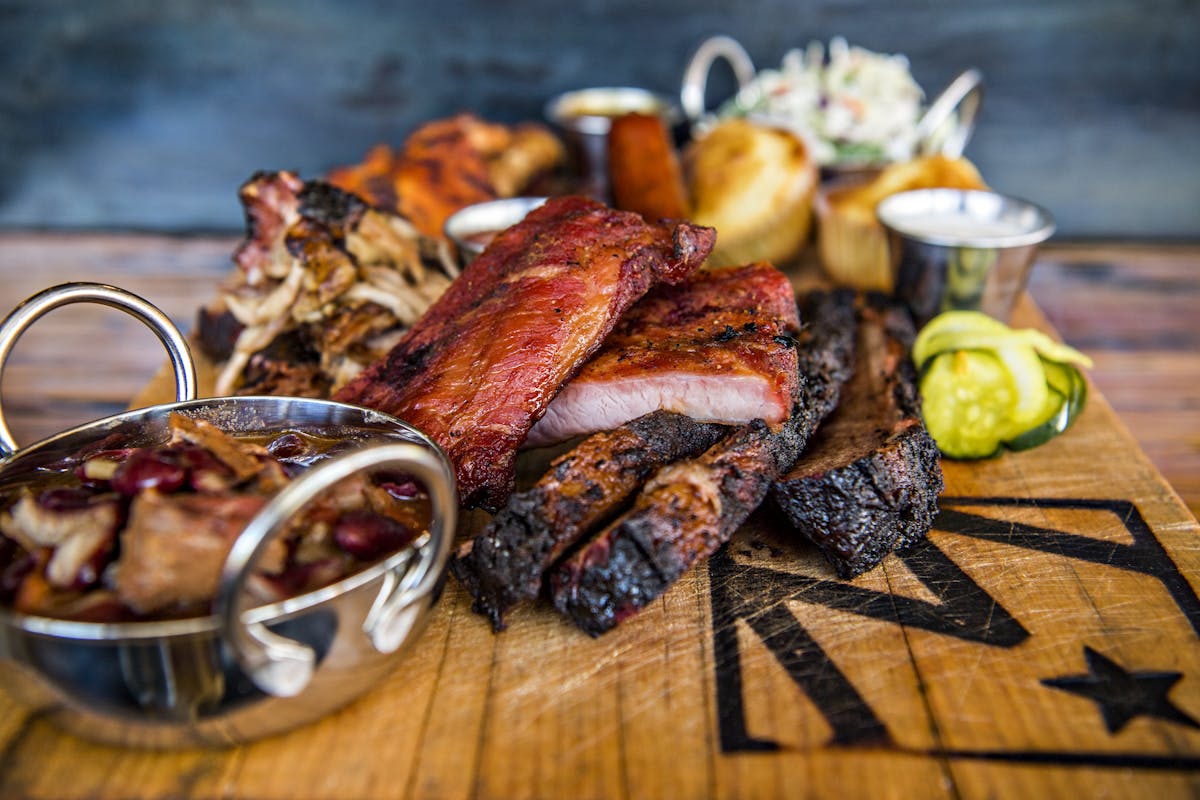 Slide 3 of 4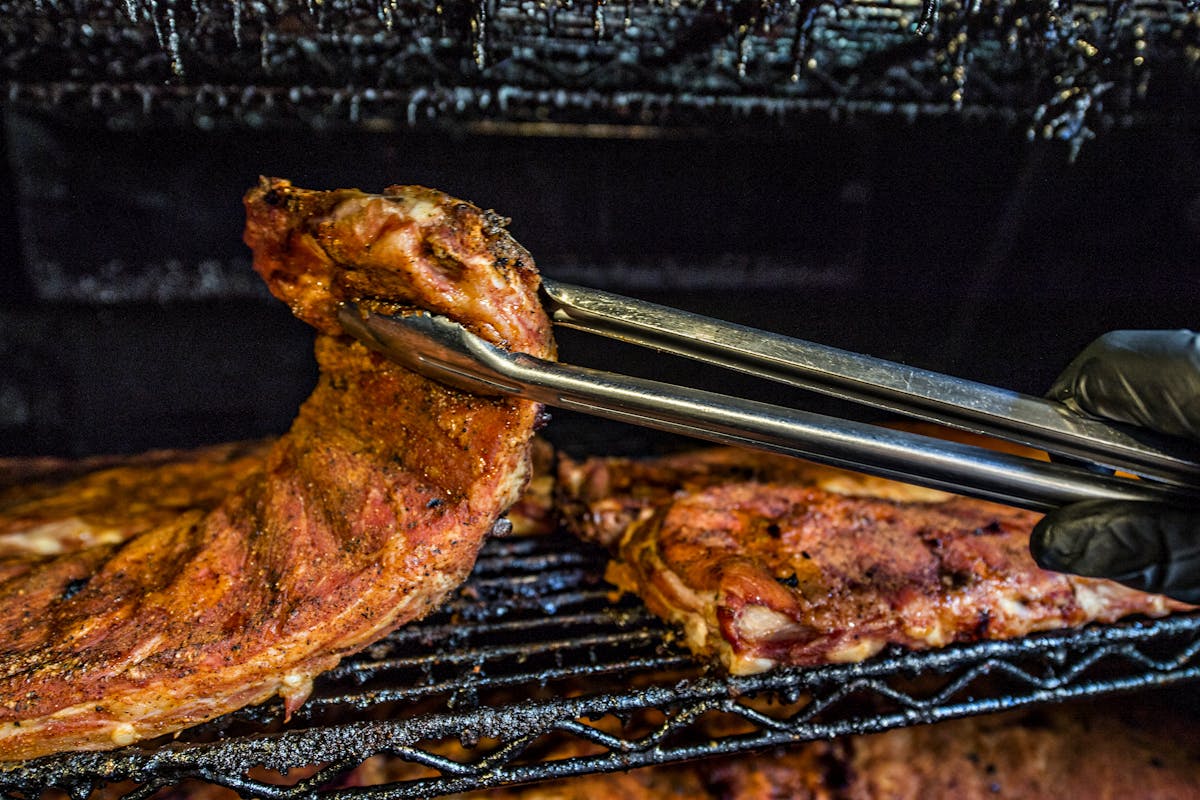 Slide 4 of 4
STARTERS & SALADS
SIMPLE GREEN SALAD

mixed greens, cucumber, cherry tomatoes, sunflower seeds, apple cider vinaigrette

$9

gluten free, vegan

ICEBERG WEDGE

Honey-cured bacon, cherry tomatoes, chives, blue cheese crumbles smoked tomato ranch

$10

gluten free

WATERMELON SALAD

Feta, cucumber, red onion, Urfa chili, sherry vinegar, mint

$12

gluten free, vegetarian

CORN BREAD SKILLET

Jalapeño and cheddar with honey butter

$7

vegetarian

BURNT ENDS

Kansas City style || get 'em while they last!

$13

gluten free

CRISPY BRUSSELS SPROUTS

Citrus honey mustard dressing

$9

vegetarian

SPINACH ARTICHOKE DIP

Parmesan herb blend, red pepper jam, lavosh cracker

$14

vegetarian
WINGS
6 wings served with celery, carrots, blue cheese dressing
▪︎ Buffalo Style

▪︎ Parmesan & Garlic Rub (Italian Herbs & Spices)

▪︎ Barbecue ( KC-Style BBQ Sauce)

▪︎ Dirty (A.K.A Spicy Honey)

$13
SIDES
MAC & CHEESE

$6

vegetarian

CABBAGE SLAW

$4

gluten free

SEASONED FRIES

$6

vegan

CAMPFIRE BEANS

$5

SWEET POTATO FRIES

$6

vegan

SIMPLE GREEN SALAD

smaller than a side salad, but bigger than a few pieces of lettuce!

mixed greens, cucumber, cherry tomatoes, sunflower seeds, apple cider vinaigrette

$5

gluten free, vegan
BURGERS
100% Angus from Niman Ranch - hormone-free, vegetarian-fed, humanely-raised, beef - topped with smoky mayo, lettuce, onion, tomato, and house-made pickles on a buttered brioche bun. Served with seasoned fries.
TAVERN BURGER*

$14.95

MUSHROOM SWISS*

$16.50

BACON CHEDDAR*

$16.50

SMOKED JALAPEÑO PEPPER JACK*

$15.50

THE ROYAL VEG

Fried portobello, smoky mayo, cabbage slaw, hot cherry peppers, arugula

$15
TAVERN SPECIALTIES
Fish & Chips

Howdy battered fried cod, house slaw, house cut fries

$18

SMOKED PRIME BRISKET

Smoky mayo, red onion, house-made pickles, KC barbecue sauce, buttered sourdough toast

$17.50
SANDWICHES
Served with seasoned fries
BBQ PORK

Crunchy cabbage slaw, Carolina gold barbecue sauce, house-made pickles, buttered brioche bun

$16.75

SEARED MAHI SANDWICH

Blackened spiced mahi, crunchy kale-cabbage slaw, tomato, avocado, jalapeño tartar sauce, buttered brioche bun

$17.50

FRIED CHICKEN SANDWICH

▪︎ BUFFALO STYLE - Ranch, lettuce, house-made pickles, blue cheese

▪︎ STICKY BIRD STYLE - Spicy honey, green apple, cabbage, buttered brioche bun

$16.50
These items may be served raw or undercooked based on your specification, or contain raw or undercooked ingredients. Consuming raw or undercooked meats, poultry, seafood, shellfish, or eggs may increase your risk for foodborne illness. All menu items are made fresh daily and some ingredients may not be listed. Please inform your server if you are allergic to or intolerant of specific foods and we are happy to make adjustments.
FROM THE SMOKER
Served with a cornbread muffin, kale-cabbage slaw, and house-made pickles
PRIME BEEF BRISKET

7 oz rocky mountain prime beef, kc barbecue sauce

$19.75

PULLED PORK

7 oz smoked pork shoulder, Carolina gold barbecue sauce

$16.95

SMOKED CHICKEN

7 oz smoked chicken thighs, Alabama white barbecue sauce

$15.95

HALF RACK RIB

St.Louis cut, kc barbecue sauce

$26

TAVERN PLATE

3 oz smoked chicken, howdy hotlink, 3 st. Louis ribs, house barbecue sauces, kale-cabbage slaw, house pickles, cornbread muffins

$25

BUTCHER BOARDS

Sliced brisket, st. Louis cut ribs, pulled pork, smoked chicken, howdy hot links, house barbecue sauces, campfire beans & slaw, house-made pickles, cornbread muffins

2 $59

4 $109

6 $159
Party Q
create your own BBQ party, smoked meats by the pound with famous West End sides
Order Party Q
Meats by The Pound
USDA PRIME BRISKET

$34

CRISPY BURNT ENDS

$26

PULLED BONE-IN PORK SHOULDER

$22

SLOW SMOKED PULLED DARK MEAT CHICKEN

$19

HOWDY BEER HOT LINKS

(4 each per pound)

$19

BROWN SUGAR RUBBED ST. LOUIS CUT RIBS

half rack $26

full rack $50
Mouthwatering Sides
(quart feeds 4-6 | half pan feed 10-15)
CLASSIC MAC 'N CHEESE

quart $14

half pan $35

CABBAGE SLAW

quart $10

half pan $26

BRISKET CAMPFIRE BEANS

quart $9

half pan $24

SMASHED POTATOES CRISPY FRIED WITH GARLIC BUTTER AND HERBS

quart $14

half pan $35
Add Ons
AWARD WINNING WEST END WINGS

50 wings any style

$140

▪︎ Dirty (a.k.a spicy honey)

▪︎ Buffalo Style

GREEN SALAD

serves 5-8 $20

CABBAGE SALAD

half pan $26

JALAPEÑO CHEDDAR CORNBREAD MUFFINS

dozen $16

SANDWICH BUNS

dozen $18

GF SANDWICH BUNS

dozen $24

CHOCOLATE CHIP COOKIES

dozen $16

GLUTEN-FREE DOUBLE CHOCOLATE CARAMEL BROWNIES

dozen $24

HOUSE BBQ SAUCE

quart $4

CAROLINA GOLD BBQ SAUCE

quart $4
DESSERTS
TAVERN BROWNIE

Vanilla ice cream, cajeta, Australian honeycomb

$8

gluten free

STRAWBERRY SHORTCAKE JAR

Italian cream cake, marinated strawberries, whipped cream

$8

ROOT BEER FLOAT

Root beer, vanilla ice cream, whipped cream and a cherry on top

$7

gluten free